COMMERCIAL AIR CONDITIONING INSTALLATION, SERVICE, & REPAIR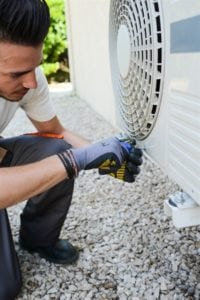 It is such a great feeling to get a nice surge of cold air when entering a building on a hot day.
What will your customers say when they enter YOUR business? Will they give a refreshing sigh? Or will they wipe their brow and make small talk about the hot weather?
Not only does commercial air conditioning keep your employees comfortable, it also makes your business look (and feel) more legitimate.
Is your business in an old building in a downtown area? Has your office been converted from some other type of building like a garage, barn, or shed? If so, you may want some air conditioning to complete the conversion with AC installation.
We've done new installations of commercial HVAC for Dick's Sporting Goods and Chipotle Mexican Grill, among other major chains, and the results were fantastic—while easily meeting the high standards of these national brands.
If you want to prevent untimely AC repairs, it's always best to perform regular maintenance. Unfortunately, even if you are vigilant about proper maintenance, things may still break or wear out over time which is why we're always ready to provide commercial air conditioning service in Jacksonville, FL. One quick phone call and your knights in shining armor will come riding to the rescue!
Our work on Dick's Sporting Goods showcases why Progressive Air & Mechanical is an excellent choice for your new commercial AC system installation in Jacksonville, FL. This national chain trusted us with cooling the air for their thousands of annual customers. We did a great job for them, and we'll do a great job for you too. 
Don't wait for disaster to strike to get your HVAC system in working order. It's better to perform inexpensive, regular maintenance than to pay a ton of money to fix a sudden emergency which could render your business unpleasant or unusable until the AC repair is performed. With expert commercial air conditioning service from Progressive Air & Mechanical, devastating repair costs will be a thing of the past.
FULL SERVICE HVAC
FOR RESIDENTIAL & COMMERCIAL